Over the past few years, there has been tremendous growth in the digitization of business processes. It is imperative to include digital marketing strategies in our marketing plan.
Amid the Pandemic, it is only poised to grow as a growing number of consumers and businesses are turning to digital mediums to gather data and information about various products and services.
Online commerce is seeing a massive change in consumer buying patterns from luxury products to everyday necessities. Social distancing, travel bans, and lockdowns have even more pushed consumers to exclusively shop online. Well, this shift is expected to be long-lasting.
The shift in buying patterns led many retail giants, wholesalers, small business owners to re-think their marketing strategies. Artificial Intelligence, chatbots, On-site personalization, digital payments, Mobile shopping experiences, voice search, subscriptions have set trends leading the way to the future for e-commerce.
Although many businesses have digitized their marketing activities, a significant share of them are still finding it hard to reach the right audience. Staying in competition and getting visibility in a highly cluttered digital landscape has made even known brands confused and looking for alternatives.
Listed below are Six of the best Digital Marketing strategies to accomplish your business goals in 2022: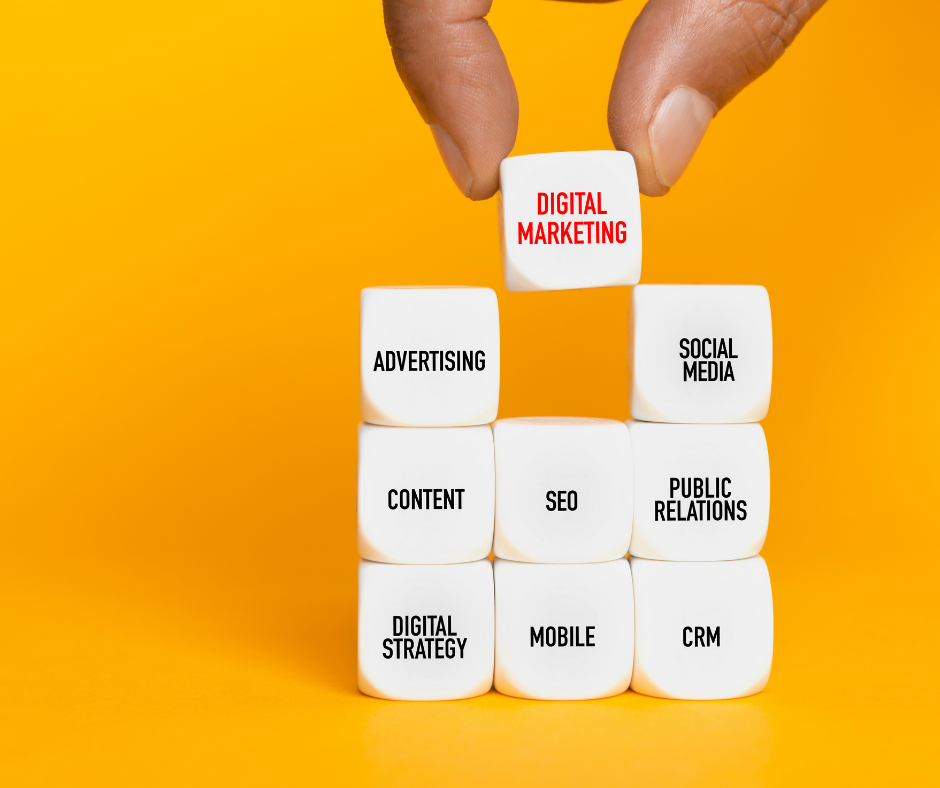 1. IMPROVE CUSTOMER EXPERIENCE
Consumers have a lot more shopping options now than ever, and they have increasingly shorter attention spans. Whether you are in the e-commerce Industry or B2B, you should be able to grab their attention quickly.
Positive customer experience is extremely important in the whole buying journey and directly influences your bottom line.
Here are a few tips to improve customer experience:
Optimize your website speed– Your consumer is not going to wait if the website isn't fast enough. Accordingly to a survey, an internet user waits 3 seconds before bouncing from a website if it doesn't load. The visitor experience will determine your ranking and visibility. So, keeping your website speed checked is a must-do.
Having a Mobile-friendly website – You can't have only a desktop-accessible website when most of your consumers use smartphones as their go-to place for research and purchase. Having a mobile responsive website is essential for any business.
Enhanced Graphics– Optimised good quality graphics will improve website speed and help create branding for your company, nevertheless helping in building trust towards your brand.
Content optimization -Make sure you prioritize your content marketing and show content based on consumer needs. The organic search results on search engines give rankings on the basis of quality content that fulfills the user's search queries.
Reviews and recommendations– Reviews can influence customers' buying behavior big time. Most consumers check out the company's star ratings and reviews before making a purchase decision.
Navigation friendly – Focus on easy use & intelligent navigation and search functions. Keep it simple and easy to find what is needed.
Use chatbots – Chatbots can enhance the customer engagement journey by improving the response time to customer queries. Deploying chatbots can reduce the human workforce and is a smart choice in this digital era.
2. CONTENT MARKETING
"Content is king" is the mantra in today's digital world. If you have been thinking, "Should I give importance to content marketing? "Then definitely it's a YES!
Content can be in any format like social media posts, blogs, videos, reviews, recommendations, personalized emails, infographics or product guides.
But two crucial factors that will boost your conversion will be the quality of your content and how you promote it.
Strategized and clearly defined content targeted at a specific audience can drive traffic to your website generating quality leads and sustainable sales growth. Original content could be an ideal tactic for an incredible customer engagement journey to increase the sales numbers of even an underperforming website.
3. PAY PER CLICK (PPC) ADVERTISING
Driving traffic to your website is one of the key goals when it comes to deciding upon the end result of a digital marketing strategy.
Traffic to your website is all about creating visibility for your brand and making it accessible for your audience. Paid ads can increase traction on your website. The goal for both is to get visibility and rankings for your website on search engines.
Getting your website rankings higher on search engines using SEO can be quite time-consuming and requires a lot of effort.
Pay-per-click (PPC) is a sustainable model if you want to generate immediate leads, it's data-driven, easily scalable, and effective ROI advertising. These ads are displayed on search engines, social media, and websites, and you pay only when a user clicks on it no matter how many times they are displayed.
We would like to briefly describe why you should be going after Google Ads as a favored medium:
Incredibly data-driven you can track on every level of your advertising campaign.
Ad Optimization You can optimize based on your consumer's behaviour
Have control over ad spend Ads can be small or big. You can set your budget and adjust the spending based on your results
Targeted visibility: The most significant advantage of PPC is that you can provide your brand offerings to the right people at the right time, boosting your conversion rate.
Google shopping ads can be a fantastic tool to display your brand offerings to ready-to-buy consumers online.
4. SOCIAL MEDIA MARKETING
With all its challenges, social media continues to be an effective model to create awareness. Social media platforms like Instagram, Facebook, Twitter, Pinterest, TikTok, LinkedIn are being accessed by such a massive audience, and it's no doubt all retailers or business owners want to leverage them to connect with their consumers.
You can craft social media ads and build content that can speak directly to your consumers. The critical factor is, product experience through visual content on social media drives a lot of attention.
Remember, not all consumers are on social media to shop, though their initial buying lifecycle begins here.
Here are a few tips on how you can take advantage of social media to promote your brand or product, or services:
Tell your brand story by creating quality content about your brand and posting them regularly. This will build trust with your consumers.
Engage your consumers regularly by running contests, promotions, offers & giveaways. It delights the audience.
Create user-generated content using texts, videos, reviews, images, testimonials, etc., that will expose your brand and offerings. This content can influence consumers and drive buying decisions.
Capitalize on Influencer Marketing by reaching out to people who have a great social media following within an Industry or niche. These people can bring tons of brand awareness & reach in a short span of time just by recommending a brand online.
5. EMAIL MARKETING
Your growing qualified leads lists now need some action.
Email marketing can drive profitable conversions, increase engagement, subscriptions, push sales, and help in building relationships with the end-user.
Email marketing can be used for new product launches, promotions, discounts, deals, and soft sell by educating them about your brand.
Personalized emails like Welcome E-mail, thank you Email, Order confirmation emails, Cart Abandonment emails in Ecommerce Industry build trust and connection with your brand.
Email marketing can drive results if you're trying to re-target your audience.
The excellent news is E-marketing can be automated. Automation can make your life simpler and allows you to focus on providing more value for consumers.
6. ANALYTICS
Analytics is a great way to measure and test the success of your campaigns. All the tactics mentioned above perform a base level of audit to read your consumers and trends. It could be the performance of your websites, ads on social media platforms, google ads, or customer emails analytics that can give you a holistic view of the impacts of your campaigns and customer engagement rate. Analytics can provide metrics on customer journey and trends to help push up in the sales funnel.
It might be daunting to decide upon which strategy to choose for your marketing to drive brand awareness and increase sales. Developing the right mix of online marketing initiatives can help you accomplish your goals in the shortest possible time.
Remember to measure performance, read your audience closely and explore new strategies that can work for your brand.
Hope the above information provides some value to decide upon your overall Digital Marketing Strategy and where you should invest your time and money to realize maximum return on Investment.
If you have any questions about which Online channel to go after for marketing your product or service, feel free to reach out to us. Our team will be more than happy to help.