Do you know that 28% of all local searches result in a purchase? Additionally, 78% of the people who search for a local business actually visit that business on that particular day. There therefore local SEO in 2023 plays a critical role in the overall search visibility of a website.
The fact is that nearly 70% of businesses do not have an SEO strategy in Play. They are therefore losing a lot of potential traffic that they would have otherwise harnessed using the powerful Search Engine Optimisation techniques. Are you one among them?
If yes then, Keep reading as we share with you 12 top tips for dominating local SEO in 2023.
First, let us briefly understand what is local SEO?
What is Local SEO?
Local SEO is the sum total of all activities done towards optimising a website in order to generate leads, increase traffic, and brand awareness.
How does Local SEO Work?
Local SEO works like normal Google Search except that it is aimed and intended towards a local set of audience.
Google has a bit different set of ranking signals for local searches. The below infographic shows how and what factors affect local SEO in 2023: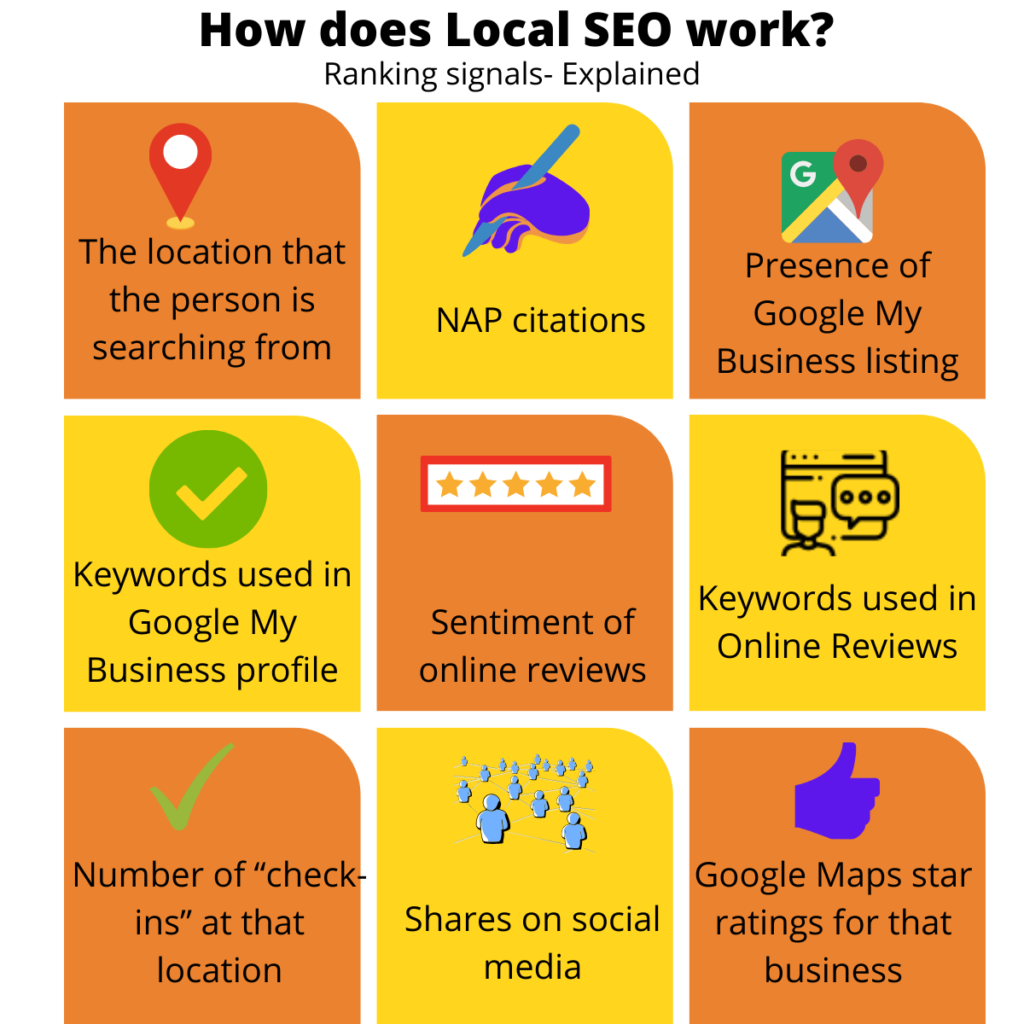 Let's now look at what are the main strategies to dominate local Search Engine Optimisation (SEO) in 2023.
Create & Optimise Google my business listing
The first and the most important factor in ranking local searches is to set up and optimize Google my business listing. Considering GMB enjoys a separate column on top of Google search results page, it is more important than ever, to rank for this section.
Make your profile complete to 100%. List all your primary products or services as well as secondary business categories. Nonetheless, make use of the Google Post feature which will keep your customers up-to-date with all the latest news and events of your organization. The more you post the better visibility you get in searches that is how Google has set the algorithm for GMB.
Last but not the least, deliver quality work and get as many 5-star reviews from your customers as possible. This will be a bumper ranker.
Target Local Keywords
As sound pretty obvious, local keywords long tail must be targeted for local search Optimisation. Say for instance, A dentist practicing in Adyar locality in Chennai should definitely mention keywords like "dentist in Adyar, Chennai" or "best dental clinic in Adyar". You could further drill down to specific services offered like root canal in Adyar, scaling removal in Chennai, Dental Polishing in Adyar etc.
If such information is included at designated pages of the website it will give instant signal to Google for ranking that website in and around that area.
Write Unique content for All Locations:
If you are a business present in multiple locations then you must seriously think about creating unique content for each of those locations. It is a good idea to have specific landing pages targeting each City, or location within a city to ace the local search results. 
Another way is to have FAQ pages section where you can reply to any odd local search questions that might be happening in your product or service niche. You should create such FAQs after thorough keyword research. FAQ's will be all the more important in future considering the rise in voice searches. 
Harness this Free tool-  Hubspot's Blog Topic Generator for handy tool for 
Use Schema for Local SEO:
Are you using schema mark-up in your website?
If not, this is the time to go for it because schema is exceedingly becoming important for local SEO. Adding Schema mark-up to your HTML improves the way your page displays in SERPs by enhancing the rich snippets that are displayed beneath the page title. Seema is a language of the bots, for ease of understanding a website's content.
It is a structural protocol adopted by Google, yahoo and Bing to determine certain data sets within web pages. By leveraging the schema language, you get the chance of dramatically improving the authority of your webpage within your local market. There are various types of Schema data sets like Name, Address Phone number, Website, Breadcrumbs, site navigation, Video schema etc.
Go Beyond Google:
Although Google dominates the search, don't restrict your listing google instead go about claiming your business on other popular search sites such as Bing (Bing Places for Business), Yahoo and business directories like Justdial, Sulekha, Hotfrog, IndiaMart, TradeIndia etc. Bing is owned by Microsoft and is the third largest search engine globally.
As for registering on directory sites, you get a free backlink by creating an account. So, why let go of such an opportunity.
If making an account on these platforms is important, what is more important is keeping the details (NAP- Name, Address & Phone number) consistent all across. Mismatch in business details will do more harm than good. There are many free & paid tools to check NAP consistency.
Optimise for Local Voice searches:
According to Google 20% of all searches happening currently on mobile are voice-based searches. The main point to keep in mind for optimising for voice searches is to keep the normal conversational tone in the content. Voice searches are usually long sentences with questions. For example: Overseas education consultants in Chennai near me.
Since there is no specific tool to check voice search keywords, make use of tools like Google keyword planner or Ubersuggest for doing keyword research of your competitors that are ranking above you. Now target all those keywords that are enabling them to show up in local searches.
Make your Overall SEO simply Great
As per Google "Your position in web results is also a factor, so SEO best practices also apply to local search optimization." Google's traditional SEO ranking factors also applied to local searches. Therefore, if you have done your overall website SEO wonderfully well, there are high chances of your site ranking even in local searches. This also includes the map pack i.e., Google my business map listings.
Make your content keeping in mind the search intent of the user. The content should be comprehensive with a conversational tone. Of course, using local keywords like your city, location, country coupled with your product or service offerings will improve your local visibility to a great extent.
There are a few more out-of-the-box options of optimising for Local SEO, which we will try to cover in the next post.
CONCLUSION:
By following the above simple tips, you can optimise for local search results and appear in Google's top result spots.
To sum up, feature your business in as many high domain authority websites as possible, keep your website listing up-to-date for mobile searches, reply to all customer reviews- both positive and negative. Just like the normal SEO, local SEO is an ongoing process, so continue with the good work.
Moreover, prioritise on Google my business while diversifying your listing across multiple search engines and directories and you will be way ahead of your competition.
This post was written by Priyanka Girdonia, Co-Founder and Owner at E Giraffes, a leading Digital Marketing agency based in Chennai. They offer industry best SEO services that help businesses scale. If you liked this article, visit their blog posts for more Digital Marketing guides and articles at https://egiraffes.com/blog
Help your business build a better online search presence today. Contact us for a Free SEO Audit and Consultation!