As per technology experts, out of the total searches happening on the Internet 80% will happen on
YouTube
by the end of 2021.
Considering this, it has become even more important to have a strong presence on
YouTube.
Briefing below some of the Highly Effective tips to enable your brand presence to come up strongly on this channel. 
1. Utilising 

YouTube

suggest:
YouTube suggest functionality is similar to that of Google suggest. It is the auto-type fill that comes in the search bar of
YouTube
. Harnessing keywords suggested by
YouTube
 will go a long way in improving the visibility of your videos. 
2. Post Highly engaging videos:
 Quality content it is the single most powerful factor to keep the customers engaged. Try to solve the customer problem in the best way possible giving them clear-cut and doable solutions. This will help in making the videos engaging which they would love to watch till the end. 
3. Encourage comments:
For encouraging comments from the viewers ask them some relevant & interesting questions within the video and encourage them to post their answers as comments. Make sure to reply to each and every comment which will generate more comments from other viewers. 
4. Get more Subscribers: 
Ask the viewers to subscribe once in the beginning and once at the end of the video.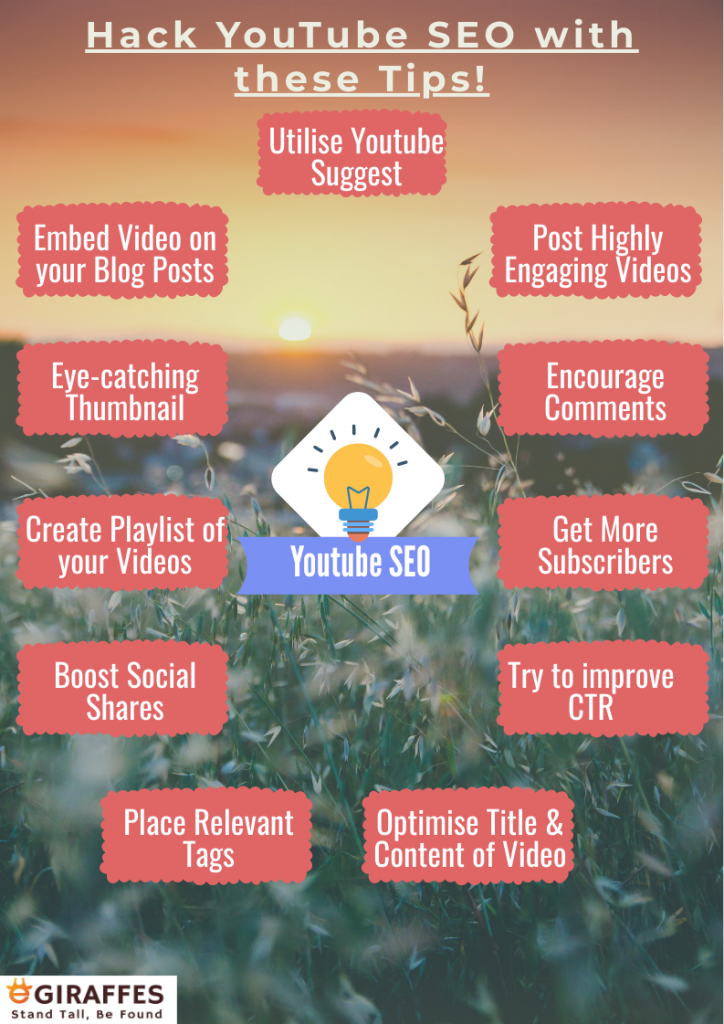 Click-through-rate (CTR) is of growing importance with regard to a video ranking higher up the search result. Therefore adopting various techniques to improve CTR must be done without any delay. This should include high-quality content, attractive colour scheme and imagery, solution to visitor's problem etc. 
6. Optimise title and content of video:
The title of video must contain a primary keyword in the beginning. Also the keyword must be used 2-3 times (of the video is of 4-5 mints duration) in the content of the video. This will help in optimising & thereby improved rankings.
7.  Place relevant tags: Add a few tags that are relevant to the content of the video. This is an easy yet effective technique of being seen at the Top. 
8.  Boost social shares Try to share your video among your social channels say on Facebook, Instagram, Twitter, Pinterest etc. If the content is great people will show their Love by commenting, sharing and Linking your videos. 
9.  Create a playlist of your videos:
By creating a playlist, you are keeping your viewers from clicking away from your channel.  The Playlist should be showcasing other interesting stuff you have on your channel which they can see & get benefitted. 
10. Eye-catching thumbnail design:
A colour-rich eye-catching thumbnail added to your brand videos will compel the viewers to click and watch.
11. Embed video on your 

blog

posts:
By adding your videos on your own
blog
posts, you are advertising your content on your other good-performing posts. This way there is a higher chance of people watching your video since they are already interested in your content.  
Following the above techniques will skyrocket your YouTube channel with raining subscriptions, growing traffic and more number of interactions.
Do let us know how we can help in your endeavour of promoting your YouTube Channel by improving your youtube SEO. Our expert consultants are just a
click away.